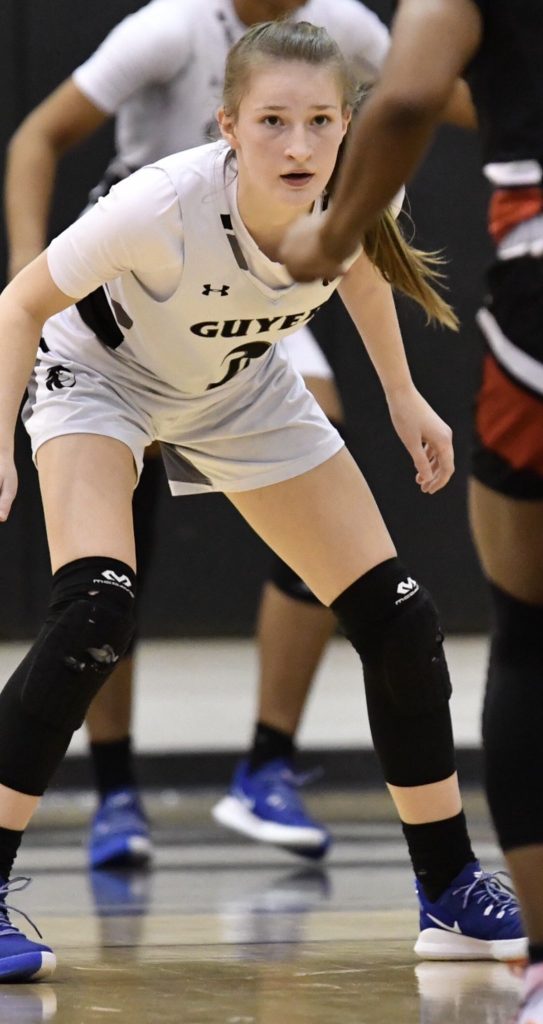 Player: Katelyn 'KK' Jones
Position: Point Guard (Using Rashad Phillips Player Dictionary)
Height: 5'8"
Class: 2023
School: Denton Guyer High School (TX)
Grassroots Team: Higher Goals 2023 (TX)

HS: 5.2 PPG, 2.1 RPG, 2 APG, 2 SPG (32% FG/87% FT)
Grassroots: 12 PPG, 6 RPG, 3 APG, 2 SPG (60% FG/40% 3PT/80% FT)
Offers: Mary Hardin-Baylor (TX)
Interests: Columbia, Iowa, Iowa State, Kansas State, St. Edwards (TX), Texas Tech and UT-Arlington
The talent pool in Texas is incredibly deep on a yearly basis leaving ample opportunity for players to unnecessarily get overlooked on the court. Although interest has trickled in, from programs across several collegiate tiers, Denton Guyer guard KK Jones is worthy of more attention from the Division 1 level. Jones is a strong and versatile player hiding in plain sight with collective traits that make her a desired asset for any team.
Justifiably awarded by PrepHoops.com to the 2020-21 All-State Defensive team, Jones is a high IQ floor general who understands and properly reacts to on-court situations as they rapidly unfold. She gives 100% effort on every play and will give her team every chance to win on the gritty side of the ball. Her tenacity is easy to spot and she is not afraid to smother ball-handlers into turnovers via pickpocketing or rushing them into poor decisions.
Jones impact helps to drive momentum for her team and creates extra possessions to secure victories. While she has been notably applauded for her defensive traits in the public eye, it's the large offensive potential Jones possesses that highlights why she has a complete repertoire to unleash on the court at the next level. Playing behind outgoing Division 1 commits Evie Goetz (TCU) and Isabella Earle (Abilene Christian), Jones will bear the brunt of the offensive load this season and her talents suggest she is ready to emerge as a go-to threat.