Desoto's attempt at a third-straight state title was a monumental ask. Not only is it difficult to sustain such high levels of success, but the program undertook significant turnover following their achievement of back-to-back titles. The squad however thrived under the leadership of a few upperclassmen and a group of talented and poised freshmen. For one of the latter group, Amari Byles, a season of trial by fire was met with confidence and production. Despite not securing the state title and extending Desoto's streak, the accumulation of her opening season experiences provided the perfect springboard towards parlaying developmental gains into further success during the summer.
Byles work has continued to shine through on the court with consistency increasing her scoring range away from the basket. Undertaking a higher shooting volume from the perimeter, coupled with greater comfort getting these shots off, the incoming sophomore has found new ways to maintain a dynamic offensive skillset as she prepares for the college ranks against more savvy competitors. The results have also cemented her impact as a physical rebounder and pronounced threat to score off the dribble. Likewise, she's shown intentionality in getting quicker on both ends of the floor to become a more versatile defensive threat increasing the frequency of guard assignments along the perimeter.
The trajectory of Byles development over the last year has been impressive. Her on-court results generated opportunities to compete with some of the world's best at the inaugural Adidas Eurocamp followed by Adidas All-American camp. Performing well at both, and almost entirely against players in classes ahead of her, confirmed her persistent training is only increasing the scope of where her game could be in 3 years time.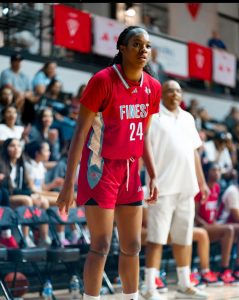 How do you reflect on your freshman season at Desoto, ending as state runner-up, from the perspective of personal and team growth?
My freshman season was a huge learning experience. We knew that there were big shoes to fill, and that came with a lot of responsibility. Every time I stepped on the court, no matter if it was practice or a game, it was all business. Also, being part of the four freshmen, came with a lot of expectations. We knew that we were young, but we didn't want to use that as an excuse, so it made us want to work that much harder. We knew we had to just do the work, and grow up fast. My freshman season I focused on pushing myself. It was important to me to set and reach my goals. My coaches really challenged me to be better at everything everyday. It was definitely a growing process, mentally and physically, but I appreciated the challenge. Overall, I think I had a really good season, and ended the season with a lot of recognition and accolades.

As a freshman, going to state, and being state runner ups, was a huge accomplishment. Losing the championship game was an extremely tough loss; I can't remember ever being that sad. I watched that game about 10 times, I was able to see what I could have done better as an individual, and what we could have done better as a team. Going through that experience together, really strengthened our team bond, and made us even more hungry for a state championship.
What were you able to take away from your own game at Adidas Eurocamp being only one of two '26 players at the event?
Being one of the younger players, my confidence grew tremendously; one from just having that type of opportunity; and secondly having the ability to play and compete with some of the top upperclassmen from the US and other countries. My work ethic improved a lot. Watching how hard and how focused everyone was; made me want to approach the game with a more mature mindset, and I wanted to match their effort and energy. Also spending so much time in a foreign country without my parents, kind of forced me to grow up.
Your speed and shooting range away from the bucket have improved over the recent year. What's helped you get better in those areas and what are you focusing on for the next year?
Improving my speed came with being determined to take care of my body through better nutrition, staying in shape, working on explosiveness and getting stronger. My shot improved from just dedicating more days in the gym to shooting, getting a bunch of reps up, and just overall having confidence in my shot. I've been overly focused on my motor, so that I can impact the game at all times.
Can you elaborate on your experience at the USA Trials?
Having the opportunity to go to trials was a huge honor, and a great experience. When I arrived, it really hit me that all of my hard work was paying off. This was one of my dreams as a kid. Being in shape at trials was huge, because of the altitude. Playing at that elevation was tougher than what I thought it was going to be, it took a little time to adapt. That in itself made me want to get in much better shape when I got home. Being vocal, showing leadership, going hard every possession, and creating opportunities for myself and my team, was a focal point at trials. Most of us knew of one another, but from a distance, so it was amazing for all of us to be in the same room, with the same goal.
How did you approach generating production at the USA Trials or other All-Star-esque events like Adidas Eurocamp and Adidas All-American Camp where opportunities and touches become much more limited?
In those types of environments, I like to pick my spots, be aggressive, play with high energy, and move well without the ball. I use my strengths and versatility to make plays, whether it's getting a rebound and going coast to coast, or getting steals and deflections to disrupt the offense.
What are some traits you're looking for in college programs?
I'm looking for a school that has a family environment, and a coach that cares about their players on and off the court. I want a coach that pushes their players to be great. Most schools that I talk to say that they like to play positionless basketball, and that is important, because I love that style of play. I want to be looked at as a basketball player, and not a position, because I'm comfortable with playing multiple positions. As far as region, I'm not opposed to playing anywhere in the country.
Which schools have been contacting you the most?
Arizona, Baylor, Duke, Florida, Florida State, Illinois, Iowa, Kansas State, Louisville, North Carolina, Notre Dame, Oklahoma State, Oregon, SMU, Texas A&M, Texas Tech, UCLA and Wisconsin