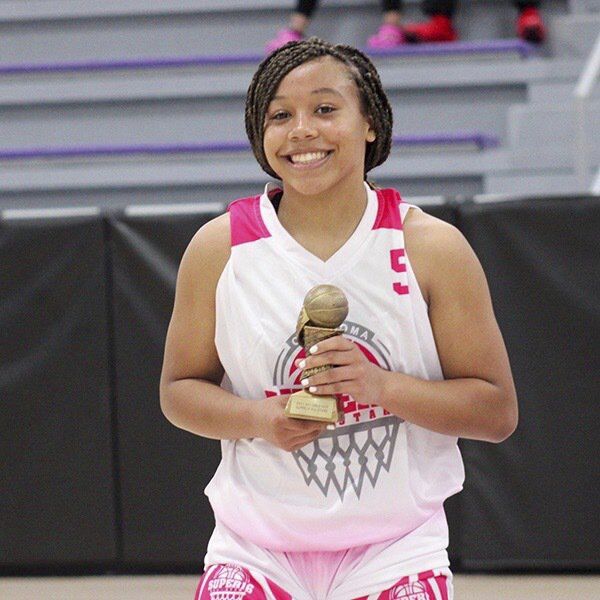 Player: Sania Richardson
Position: Hybrid Guard (Using Rashad Phillips Player Dictionary)
Height: 5'3"
Class: 2025
School: Ada High School (OK)
Grassroots Team: Below The Rim UAA 16U (OK)
Offers: Eastern Michigan and Oklahoma
Interests: Abilene Christian, Arkansas, Florida, Houston, Kansas, Nebraska, North Carolina, Ole Miss, Texas Tech and UCLA
Oklahoma is proving to be a gold mine for top-end women's talent in the class of 2025. Having already covered exceptional guards Keeley Parks and Keziah Lofton, both in angry pursuit of 5-star status, the duo are joined by numerous other in-state threats attacking the national scene and vying for their own shot at the top of the rankings. The latest of which is Ada (OK) guard Sania Richardson, who cannot be counted out from consideration as a 5-star player down the road.
Richardson has already taken part in events with Team USA, notably the 2019 Ballin Across the Border Global Games, which included top national talent several years older than herself. Developmentally, she has been showing for years that the sky is the limit and she is up for any challenge placed in front of her on a basketball court. Her skillset has continued to elevate every season and the consistency playing against older competition has proven to be an asset rather than a hinderance.
Even under these circumstances, Richardson has always been one of the most dangerous players on the floor. She is a very capable floor general exuding leadership and high energy to lift her team when it matters most. Her productivity across the floor cannot be ignored and will only continue to rival the top players she competes against night in and night out regardless of class. As such, Richardson is displaying successful traits that will continue to lead to productive games at the Division 1 level.