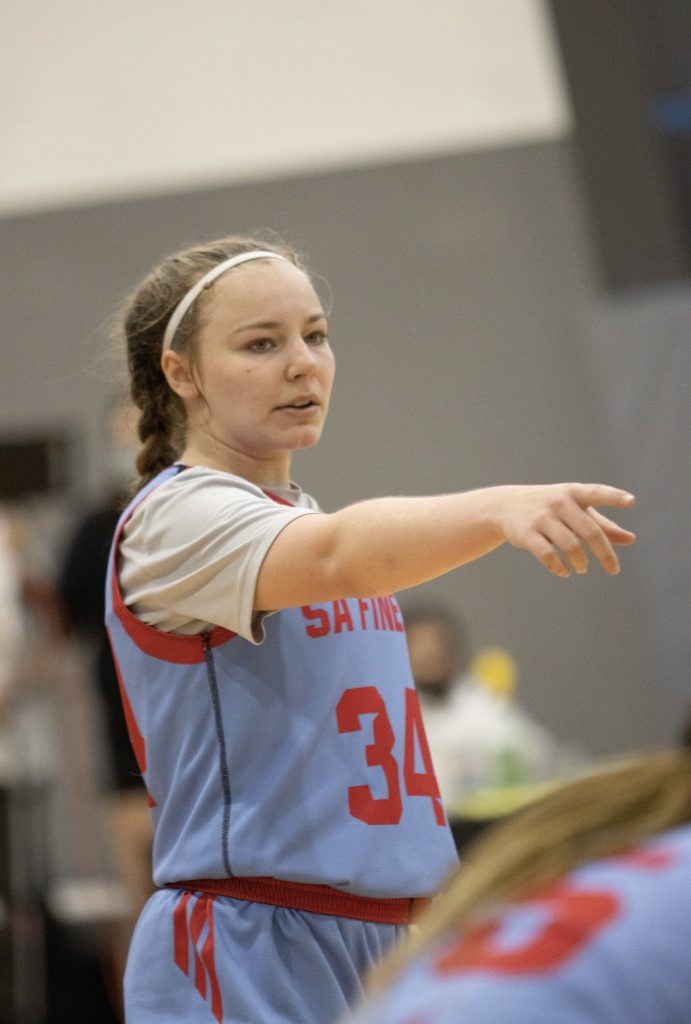 Player: Averi Aaron
Position: PF (Using Rashad Phillips Player Dictionary)
Height: 6'1"
Class: 2024
School: Boerne High School (TX)
Grassroots Team: SA Finest – Team Ki Will (TX)
Offers: None
Interests: Austin College, Abilene Christian, Arkansas State, Louisiana Tech, Midwestern State, Mary Hardin-Baylor, UT-Rio Grande Valley, UC-San Diego and Wichita State
The adoption of a constant grind and strong work ethic towards betterment is not an unheard of concept among successful athletes at any observable level. It's the norm rather than an anomaly regardless of how long they've been in the sport. Even if a player makes a "late" decision to enter the sport relative to when their peers start, does not automatically signal a lack of talent or an increased likelihood to fail. In fact there are numerous examples of these situations unfolding producing positive or successful outcomes.
Notably, San Antonio Spurs legend David Robinson hadn't played significant high school basketball prior to his senior season when he experienced a growth spurt from 5'9" to 6'7". The physical change sparked the journey for the star that would later earn the nickname "The Admiral," become the 1st selection in the 1987 NBA Draft and produce a Hall of Fame career with the Spurs. Yes, Robinson was able to take advantage of his new found physicality and re-tooled ability to dominate on the court. Yet it was his utilization of prior experiences in basketball, leading up to his professional career, and in other sports that allowed him to successfully adapt after the fact and become a success story.
While this knowingly presents one of the most extreme examples on the success spectrum for a player breaking into the sport at a relatively "late" juncture, it does not eliminate the fact that other success stories can also formulate from similar circumstances and with relative magnitudes (i.e., making one's high school team, earning a college scholarship or even playing professionally somewhere). These traits have been embodied by the current career path of 2024 forward Averi Aaron.
The similarity of circumstances is only fitting coming that Aaron hails from the city where Robinson made his Hall of Fame career happen. Playing for Boerne High School and grassroots program SA Finest, the 6'1" forward made the transition to basketball 2 years ago from competitive soccer. Despite making the move over to the hardwood from the soccer pitch, Aaron has quickly picked up the nuances of the game and displayed her potential over the last year. In her first season at Boerne, she accumulated an impressive list of accolades for any player let alone one "new" to the game:
All-State Selection by Texas Girl's Coaches Association
All-State Selection by Texas Association of Basketball Coaches
All-Region Selection
First-team All-District Selection
First-team Academic All-District Selection
Newcomer of the Year – District 28-4A
San Antonio Express News Player of the Week
San Antonio Express News All-Area Selection
Her continued development and growing familiarity with the game should come as a warning of her overall potential. Her play on the court this summer has produced confirmatory flashes that her skillset is still morphing into something more consistent and expansive. Aaron's progression in such a short time lends her trajectory towards earning a college scholarship down the road. There are already specific aspects and productive areas associated with her game, which will be elaborated on shortly, that confirm her trajectory is well ahead of where it should be for her short career and why the college route is not out of the question.