Feel for the Game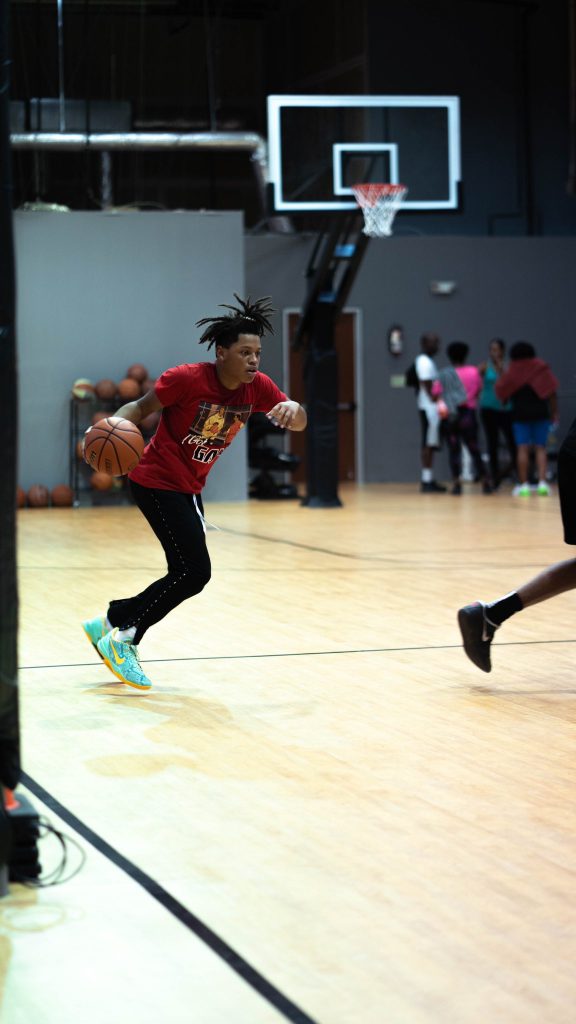 Holiman has been able to consistently demonstrate his skills as a strong floor general. He utilizes his speed and burst well to probe defensive weak spots and navigate rotations seeking the best outcomes. His eyes are always moving, and he attacks with a purpose to score or open the floor for others. In evaluating him now though, it's evident that this keen sense in his approach has been elevated and combined with further developed traits to make for a more pronounced impact.
Particularly the speed and tightness of his handle have improved from its previous level to elevate Holiman's ability to attack and react to how defenses choose to play him. The game has noticeably slowed down for him and his knack for countering defensive moves and making plays stands out quickly. He is drawing in more defenders at a consistent rate, because of his quickness in penetrating the paint, earning more frequent trips to the foul line, and opening bigger passing lanes for himself to keep plays alive.
Comfortably, Holiman has been able to expand his offensive arsenal to mid-range pullups when attacking as well as tough-angle and touch finishes at the rim with or without contact. His versatility in creating these opportunities has not gone unnoticed and he continues to find ways to expand his presence on that end of the floor. He has maintained his feel and impact on the defensive end as a stout one-on-one assignment, but also has elevated his awareness in help situations for his teammates. He has quick lateral acceleration to help off his man and recovers well to sustain defensive integrity on the court.