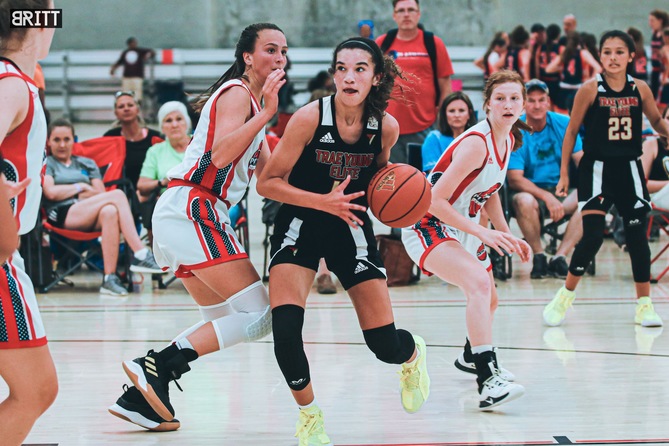 Court Vision + Facilitator
A direct downstream effect of Parks ability to knife through defenses and penetrate the lane is uncovering her outstanding court vision. Whether it's on the fast break or out of a halfcourt set, getting into the middle of the defense usually results in positive plays for the offensive team. Parks has an incredibly high rate of success, not only in getting to this area of the court off the dribble, but in making the 'right' basketball play once she's there. Her gravity with the ball in her hands is so significant that she creates multiple scoring options just by beating the first line defensively.
She doesn't force the issue shooting, even with a foot inside the paint, and manages to keep accurate positional memory of where her teammates are located. Her eyes are always looking up at the rest of the court, as good guards do, where she can adjust on the fly and continue to make plays for her team. Sending pinpoint passes for her teammates to hit shots in rhythm, Parks drastically lowers the scoring difficulty for others on the floor.
Part of why Parks is so effective at finding the middle of the defense and getting downhill to the paint is her exceptional ballhandling skills. She is Houdini-esque with the ball in her hands, slipping through narrowing spaces and cutting on a dime to keep plays alive. Already with a solid understanding of change-of-pace dribbling, Parks has a multitude of ways to keep defenders on their heels and frequently chasing her down the floor. The combination of her physicality, speed and skillset makes for a fun show each time she steps on the court.