Entering this summer, incoming sophomore McKenna Woliczko likely faced the most daunting schedule and competition demands she's come across in basketball to date. Following a stellar freshman season with California powerhouse Archbishop Mitty, where she averaged north of 20 points and 10 rebounds per game and played a vital role in the team's deep playoff successes, the 6'2" forward continued her success consistently throughout the grassroots season.
Playing with Bay City 3SSB, she proved to be the most efficient scoring threat and one of the best interior scorers on the Adidas Circuit per Synergy SST. Woliczko's play throughout the Summer helped earn an invite to the Adidas All-American camp and a spot on Team USA's gold-medal winning roster at the FIBA Americas U16 tournament in Mexico. Securing some hardware on the world's stage was a gigantic accomplishment in and of itself, but proving herself as one of the team's most effective players only added to her overall performance. Woliczko led Team USA in FG% and offensive rebounds per game, while also finishing 2nd in points, total rebounds and efficiency.
Her ability to separate from the pack in premier events, specifically behind impactful effort and instinctive timing, captivates how little time has been spent asserting herself as one of the top talents in the 2026 class. Operating in a competitive basketball setting for only two years makes her accomplishments and development all the more impressive.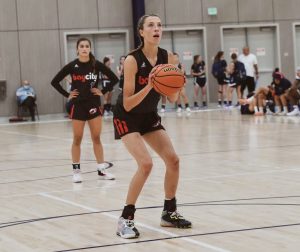 You were named National Co-Freshman of the Year by MaxPreps and were seconds away from winning a state title last season. What goals have you set for yourself entering your sophomore season?
"My sophomore season is going to be hard to live up to my amazing freshman year. But just like my freshman year I'm going to go into it with no expectations and just let everything happen. But obviously a big goal for our team this year will be to win state!"
What has your experience been like getting the opportunity to learn under legendary coach Sue Phillips at Archbishop Mitty and play alongside accomplished guard Morgan Cheli?
"I am very grateful to be able to learn from Mitty basketball. Coach Phillips has helped me become the person and player that I am. She has also helped me pave a path for the rest of my career and gained me the experiences I have had. Playing with Morgan is a bragging right. Being able to compete with one of the best players in the country everyday sets me to a standard and is the reason why I go to Mitty everyday. I'm glad I get to play one more year with Morgan and wish her my best at UConn next year!"
Can you reflect on your experiences with Team USA after winning gold at the FIBA U16 Americas tournament and being selected to the All-Star Five?
"Playing and winning gold with Team USA has been a lifelong goal. The all-star 5 was just the icing on the cake. But more importantly I was able to compete with some of the best players in the world. Every girl on Team USA is one of the top ranked players in their class. And I look forward to playing with them for many years to come!"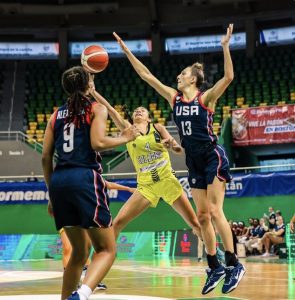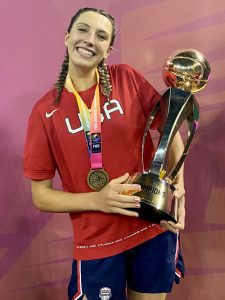 How has playing with Team USA or at elite-level events like Adidas All-American camp helped you to grow your game?
"The training with Team USA is all about top competition. Iron sharpens Iron, so I enjoy challenging myself at the top events."
How has splitting time with softball helped your skillset on the basketball court?
"I feel that from softball I have gained amazing hand eye coordination. Playing shortstop has helped me have that. One thing that my teammates love to joke about is that my hands are like webs, I catch everything which translates to basketball especially when my teammates enter the ball into the post. From softball I pride myself on a cannon for an arm. So if you ever need a full court pass you know who to call!!"
You've unofficially visited or camped at Colorado, South Carolina, Stanford, UCLA and UNC among others and received numerous offers from national-level programs. What's been your favorite part of the recruiting experience thus far?
"I've enjoyed visiting and talking to many coaches around the country. It's amazing I get to talk to Hall Of Fame coaches, I'm pretty consistent in talking to coaches based on my schedule."