Jackie Young, Arike Ogunbowale, Sabrina Ionescu, Satou Sabally, Rhyne Howard and NaLyssa Smith are among the immediate stars added to the WNBA's talent pool in recent seasons. Their careers, injuries aside, have unfolded on the court rather smoothly since landing on their respective teams. Getting drafted is an occasion for players, and their families, to celebrate the culmination of all their hard work and success from the youth level through college. However, the current structure does not confer job security or guarantee opportunity to a majority of drafted players. In fact, the WNBA calendar as it stands provides very little time for incoming players to acclimate prior to roster cuts occurring and the season starting.
Following the completion of the 2019 WNBA draft, there's a pronounced decline in players competing in at least 60% of their available games as well as eclipsing an average of 10+ MPG. Despite a small rebound from the 2022 WNBA draft class, players are still finding it difficult to carve out significant roles for themselves upon entering the league.
| | | |
| --- | --- | --- |
| | % 10+ MPG | 60+% GP |
| 2019 | 58.3 | 36.1 |
| 2020 | 44.4 | 16.7 |
| 2021 | 25.0 | 16.7 |
| 2022 | 36.1 | 27.8 |
Values overall per draft class
Draft position, while not concrete in predicting career success, has showed correlating trends in opportunity decreasing as the rounds progress. Those that have 'bucked' the trends carried reliable calling cards from college and continued to thrive in those areas of the game at the professional level. In the presence of one of the harshest learning curves in sports, successful players have found ways to withstand early career adversity and return to similar levels of pre-draft production.
| | | |
| --- | --- | --- |
| | % 10 MPG | 60+% GP |
| 2019 | 100 / 66.7 / 8.3 | 50 / 50 / 0 |
| 2020 | 91.2 / 33.3 / 8.3 | 33.3 / 16.7 / 0 |
| 2021 | 33.3 / 25.0 / 8.3 | 33.3 / 16.7 / 0 |
| 2022 | 75.0 / 41.7 / 0 | 66.7 / 33.3 / 0 |
Values by round within draft class
Opening day rosters for the 2023 season have continued to reflect a majority presence by proven veterans – 56.3% (81/144) – with at least 4 years of experience. Inclusive of the deep 2019 draft class, vets have done an excellent job carving out larger roles for themselves and maintaining their holds on them through continued development. Growth of the game and individual skillsets has continued to trickle-down to the grassroots, high and school levels at rapid rate, but players still need to enter the league with disruptive traits in order to reach similar levels of success.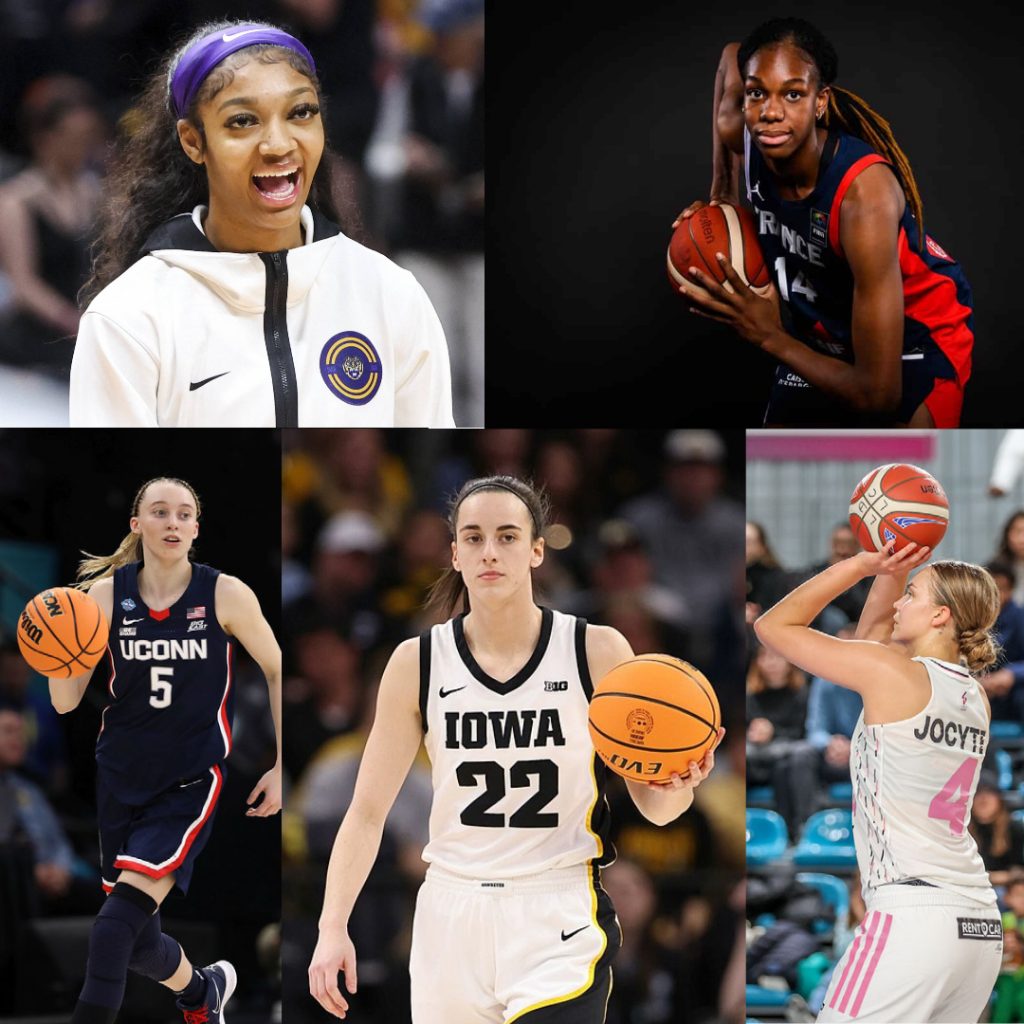 Approaching the 2024 and 2025 drafts however, there's reason to believe the status quo will be disturbed and the league will undergo another shift in stardom. Through the combination of homegrown talent and a new wave of dynamic international players, the top prizes will cause teams to stockpile pick assets in order to land one of these game-changers.
The 2024 draft will likely welcome guard Caitlin Clark (Iowa) as the classes' top pick followed by Paige Bueckers (UConn), Angel Reese (LSU) and Cameron Brink (Stanford) still in the fight for the highest spot. Due to the NCAA's Covid-year policy for added eligibility, each of the aforementioned quartet could opt to stay in college an extra season and join Dominique Malonga (France), Juste Jocyte (Lithuania) and other international stars for an even deeper draft.
Although these players will cause a fight for the top spot, teams can likewise position themselves to take advantage of the overall depth of talent expected to be available deeper in these draft classes. An extensive list of Power 6 All-Conference players will be leaving the collegiate ranks within the next two seasons capable of contributing early to a roster and pushing the overall potential of the 24'/25′ drafts to rival the 2019 group. As a result, there stands to be a lot of pre-draft shuffling of player assets and picks within the next pair of seasons to make the most of these classes.