Embed from Getty Images
After finishing 8th or lower in conference play the last 4 years, 3rd in 2018 was monumental improvement for Georgetown. Nearing the tournament bubble, Patrick Ewing will look to build upon last season's momentum to contend for the conference title. The turn around is largely attributed to talented freshman PGs James Akinjo (13.4 PPG/2.8 RPG/5.2 APG) and Mac McClung (13.1 PPG/2.6 RPG/2.0 APG). In fact, the pair played so well their names were etched in the program's history books.
Led by elite-level post players (Patrick Ewing, Dikembe Mutombo, Alonzo Mourning, Roy Hibbert and Jessie Govan), the Hoyas have not historically been revered for its guard play. Talented backcourts have been a consistent staple of Georgetown basketball, don't let that be go unnoticed, but its taken Hoya guards time to reach their full potential.
Outside of last season's outlier, the top pair of guards have consistently scored 20+ PPG each season. In the last 10 seasons, Akinjo/McClung (26.5 PPG/5.5 RPG/7.2 APG) would have only ranked as the program's 6th best backcourt. Yet, the last time an underclassmen pair were the best guards on the team was in 2008-09. Additionally, you'd have to look further at the 1994-95′ season for the last time freshmen led the backcourt in scoring.
On that occassion Eric Myles and a certain Allen Iverson carried the Hoyas. Granted, Iverson's production accounted for almost 80% of the pair's output. As strong and special as he was, there has not been as young and talented a backcourt on campus in 25 years. Even more unique of last season's pair, Akinjo/McClung managed a near 50/50 split in offensive usage and per game stats. Add in wing Josh Leblanc (9.1/7.3/1.0) and Georgetown may have the most productive freshman backcourt trio in program history. Each made the All-Big East Freshman and Defensive teams last year.
Their notoriety is only going to grow from here on out.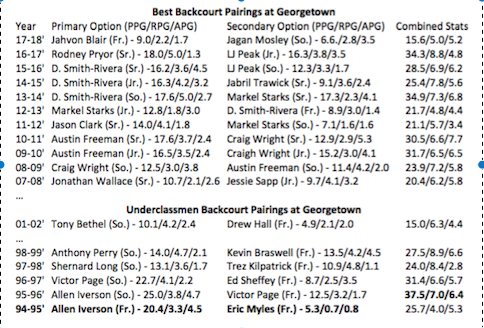 The star Sophomores are going to carry this year's team and its growing expectations. The loss of Jessie Govan as the Center-piece (pun intended) will force head coach Patrick Ewing to tweak his offensive scheme slightly in favor of his guards. Last season, the freshman duo accounted for ~33.5% (33.46%) of the team's shot attempts. Both players can expect their roles to increase this season.
Raising their attempts each to a conceivable 13.0 per game (~42% of the offense), without altering shooting percentages, would project their stats to:

Akinjo: 16.49 PPG (4.78 FGM/13.0 FGA)
McClung: 15.28 PPG (5.09 FGM/13.0 FGA)
Combined: 31.77 PPG (9.87 FGM/26.0 FGA)
This projection places the duo as the 3rd highest backcourt in the last 10 years and 2nd-highest underclassmen pair behind Iverson and Victor Page's 37.5 PPG in 1995-96. Given McClung's 27.7% 3-point average last season, it's not far fetched to think that number will easily improve in 2019. The offense should be more free-flowing this season and benefit the guards rhythm scoring the ball.
Regardless of usage next season, the Akinjo/McClung combination projects as one of the best to ever play for the university. Fans can certainly come to expect more 20 and even 30-point performances from their talented guards this season. The Hoyas have an extremely bright future ahead and will be one of the more exciting teams to watch.
**Update: Trez Kilpatrick was not a freshman when he arrived at Georgetown. Kilpatrick was recruited out of Junior College and came to the Hoyas as a Junior.